Our members have been busy! Do you have an article or picture(s ) from a song circle, hoot or musical event with Songmakers that you would like to share? If so, email to: Mary Zangerle at:
webmaster@songmakers.org
West LA Hoot Report – May 2023
The West LA hoot (meeting on 4th Sunday of the month usually) continues to delight and/or thrill all the participants! What a group: lively, fun, upbeat with many sing alongs, and great solos too. Our hoot hosts, MhaAtma and Marti have been hosting for more than 10 years and I am so happy about that because prior to that we were meeting in various homes, having to ask around every month. The songs they sang and requested included "Rolling on the River," "Yesterday," Come Healing" by Leonard Cohen, "City of New Orleans," "Sea Cruz," "Never Stopped Loving You." During Sea Cruz some of us busted out our dance moves in the middle of the room. I love when that happens!
Jim Juback, the king of cool, sang other people's songs for a change (he has a million unique original songs): "You May Already Be a Winner," by John Hyatt" "The Piano has been Drinking" by Tom Waits and a song called "Seven Days" by Ben Vaughn.
We each got about three turns! We had 15 or so attendees, and our hoot moves along with a minimum of talk between songs.
Chuck Behrman gave us his original "It's Always Better With You" a great sing along! He also unearthed the original (which was adapted many times over) of "The Ship That Never Returned." He also led us in a spirited "Hole in the Bucket."
Russ Lyon, first timer to the WLA hoot played and sang "That's What I Do" by Randy Weeks; "The Girl Just Loves to Dance" (He may have been singing about some of our attendees! We dance at the West LA Hoot!). He gave us "Sail Away" by Neil Young. Great ones Russ! Keep coming back!
Chris Tigner, queen of the great repertoire brought us The Proclaimers (Scottish brothers) song "500 miles." HOT song Chris! She also gave us a spirited but abridged "American Pie" Don McClean's ode to Rock and Roll, and the unusual offering of Tom Jones' "It's Not Unusual." We all seemed to know that and sang along. Love it!
Next up was Nomi (I call her the secret sauce of making any hoot super fun) sang "You Can't Go Home Again" by Nancy Griffith. Also Denver's "Rocky Mt. High", an awesome singalong! And the ever popular Kate Wolf classic "The Great Divide." You rock big time Nomi!
Abram delighted us with Shady Grove, a great traditional song and fun to sing with and the folk anthem "Country Roads." Well done Abram!
Eliza, she of the beautiful voice, did a fine job on "Killing Me Softly With His Song," "Lincoln Duncan" (Paul Simon's coming of age song), and "Good Morning Starshine" from the musical Hair. Very satisfying to sing along with all of these !! Remember everyone, like Paul Simon, to "thank the Lord for [your] fingers!"
Jerry, our droll party guy, gave us some cool funny songs: "Wasn't That a Party" by the Irish Rovers, and Tom Paxton's "I Wonder Where My bad old days have gone." And Garth Brooks' song "Friends in Low Places." Party on Jerry!
Alan Stilson, our lyricist extraordinaire gave us the historically interesting "The House I Live In." by Earl Robinson and Abel Meeropol, and brought Chris Tigner up to reprise her well loved performance of "I Wish I found Asylum." This song is one of Alan's creations about the plight of refugees, sung to the tune of "Sounds of Silence" and was presented at his Paradoxical 2, his musical show he premiered early in May. He also sang a rousing "Everything is Beautifu"l by Ray Stevens.
Welcome back Karl Lisovski! He sang the old favorite "John Henry", and an original "The Choice We Made." His sing along offering which caused us all to join in exuberantly was "Sweet Caroliine" by Neil Diamond."
Carol Michelle, she of the tiniest harmonica known to humankind always chooses great sing alongs! "Sealed With a Kiss" and Smokey Robinsons' "You Really Got A Hold on Me." I always really like your choices Carol !
Returning after years was Scott with a beautiful voice sang "Angel From Montgomery" and Simon and Garfunkel's "Leaves That Are Green." Please come again!
Due to COVID restrictions being lifted, MhaAtma and Marti have increased the maximum number allowed in the West LA Hoot.
We shall carry on making a joyful noise at the West L.A. Hoot !
Back in the day, people did keep notes about each hoot they led. Some hoot leaders were very detailed (I recall Bob Hall and Renata Decher taking a lot of notes!) and these were printed in the next Bard Chord issue. Here are a few from 2003 and 2005…
It is that time of year again when we go beating the bushes looking for members who are ready and able to support our club. Elections for board members will happen in January. So, we are looking for Songmakers to run for election. Duties are very basic. Attend 4 zoom meetings a year that last approximately 2-3 hours. Help to steer the club in the direction you want through discussion and votes.
Review of Music in the Mountains
November 3-6, 2022
By Janice Gelencser
This year's Music in the Mountains at deBenniville Pines was a big success. Though the attendance was smaller than usual, there was a coziness to being together in the crisp autumn air. Snow had fallen the day before a
nd remained on the ground for the weekend which added to the beauty of the camp and its surroundings. There were plenty of opportunities for impromptu jamming, relaxing by the large hearth in the lodge and catching up with old friends while meeting new ones. The food was delicious and the cabins were warm and comfortable.
Our headliner, Larry Wilder, opened for both the Friday and Saturday evening concerts. His vibrant and friendly personality is contagious which made the attendees happy they came. Larry also gave two workshops which were well received. His songs and stories session, told of how Americana music tied into events in our history. His yodeling workshop gave the attendees some basics of how to yodel.
left: Headliner Larry Wilder on guitar
A big thank you is in order to the Songmaker workshop leaders who volunteered their time and talents to make this another memorable weekend. Louise Dobbs led an all purpose sing-along and provided songbooks for the singers. Carol Burton gave us interesting stories about Leonard Cohen and his son
gs. Bob DeVillle (pictured at left) led a workshop about Bob Dylan and his music. Joan Greenwald, although not a Songmaker, is a regular attendee at MITM who led a basic sight reading workshop. Oram Miller, another regular attendee at MITM, led a choral workshop (pictured at right) and performed the song at the evening concert.
There were two evening concerts. Friday's concert featured the workshop leaders and committee members with the Julia Collins as our emcee. Saturday's concert featured the attendees with Ron Bloom taking the role as emcee. The Songmaker's sound system was used for both concerts. Thank you to Andy Gelencser for housing our sound system and transporting the equipment to deBenniville.
Above l-r: Janice Gelenscer, Ron Bloom and Carol Schryver and Karl Lisovsky
Sunday morning brought two simultaneous "Songs of Meanings" sessions which allowed time for attendees to have more than one turn to share their songs.
Committee members who planned this year's Music in the Mountains are Janice Gelencser, Doug Kerr, Linda Szitkar, Mary Hendricks, Bob DeVille, Carol Burton, Julia Collins and Steve Berman, our Songmakers President.
.
Stagecoach Inn
There is a Songcircle held on the 4th Saturday of Each Month. Check the calendar for further details.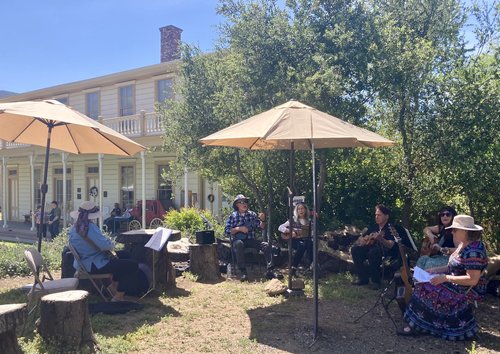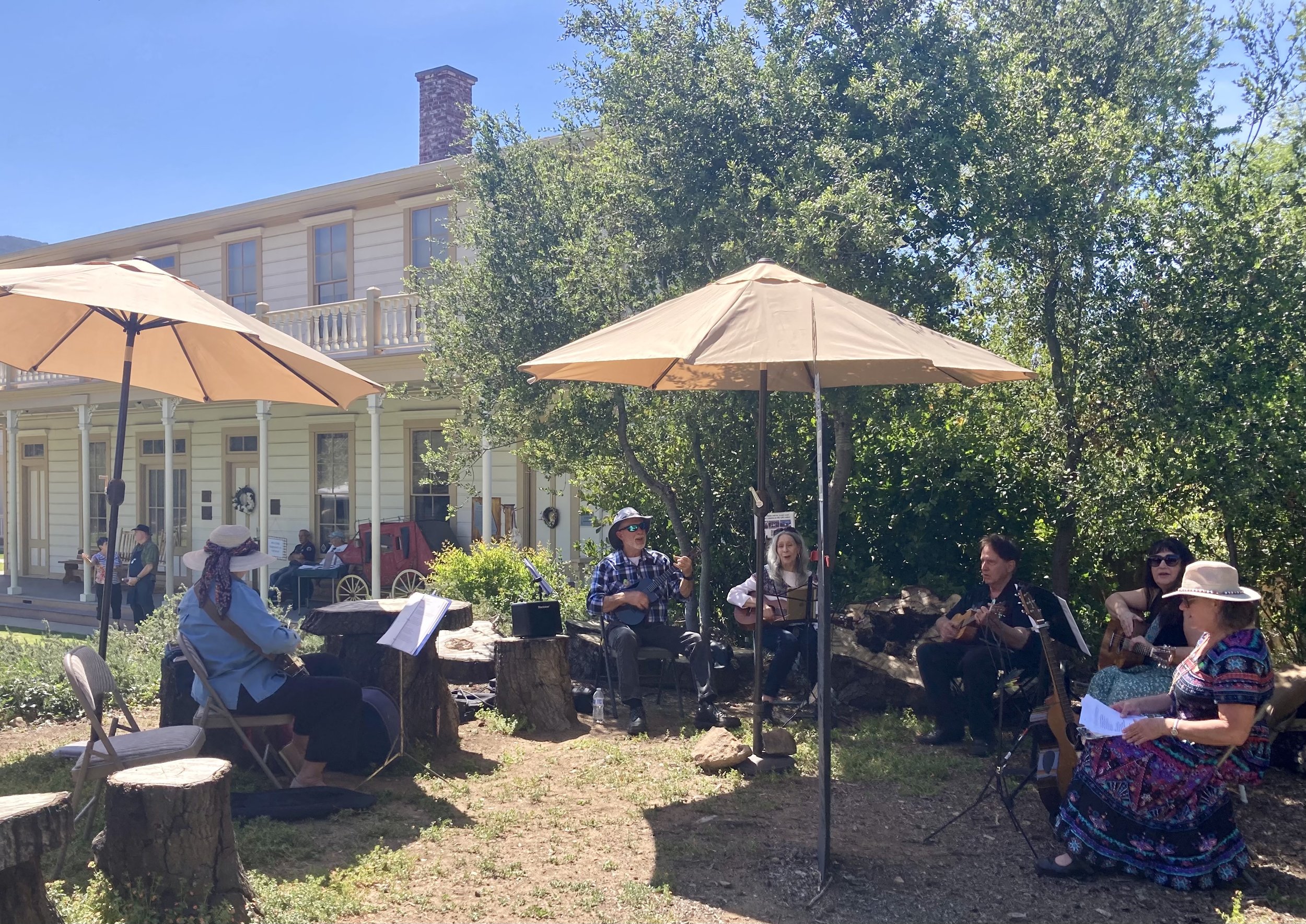 Kenney Grove June 2022
Our campouts at Kenney Grove in Fillmore have been well attended this year. In addition to the overnight Songmaker campers, many members "day trip" just for the day on Saturdays.
It isn't always about playing music and staying in the campground. Many members went to Santa Paula for an evening car show and to hear Greg Lannar's band perform. A few members bring their bikes along and there is a great store with antiques and old-time items to visit in Fillmore.
Janice Gelencser biked to the nearby tennis courts to hit balls.
A sampling of items at the local downtown Fillmore antique store
Greg Lannar's band performed downtown at the car show in Santa Paula.
Photos from Kenney Grove Campout, Oct 2022
Topanga Banjo and Fiddle Festival 2022
Photos by Chuck Behrman
Article by Louise Dobbs
The 2022 60th Topanga Festival by Louise Dobbs
Songmakers 2022 Roundup
This was held via zoom on February 26, 2022.
Some of our board members performed Sing With Me, by John Zipperer at the event. Songmakers appearing in the video are Doug Kerr, Linda Szitkar, Janice Galencser, Louise Dobbs, Sally Charette, Dana Charette, Steve Berman and Sandy Lessner. Thanks go to Doug Kerr for producing this video.