Our members have been busy! Do you have an article or picture(s ) from a song circle, hoot or musical event with Songmakers that you would like to share? If so, email to: Mary Zangerle at:
webmaster@songmakers.org
This is a great acoustic/old-time festival happening in Goleta on Oct 8, 2022. The grounds of historical Stow House are beautiful and shady. Many Songmakers are planning to attend so y'all come!
Music in the Mountains November 2022
By Janice Gelencser
Music in the Mountains is an annual event at Camp deBenniville Pines in the San Bernardino Mountains near Angelus Oaks which will take place on November 4-6 this year. The cost is $175 which includes lodging and six delicious meals. For an extra $20, folks may arrive on Thursday, November 3rd to enjoy the facilities with no meals provided. This crisp fall weekend is a perfect place to sing, jam, attend workshops and meet other musicians from all over Southern California. The main lodge with the large fireplace and cozy hearth is a gathering place for reading and relaxing while sipping hot drinks from the beverage bar which is always
available.
Our headliner will be musicologist and National Yodel Champion, Larry Wilder. Larry will open for the evening concerts and lead two workshops, one on stories and songs and the other on
yodeling. Other workshops include: Live Music Meditation, Song Writing, Singalong sessions, Choral Singing, Recorder, Tribute to Leonard Cohen, Tribute to Bob Dylan, Easy Sight Reading, Yodeling and Songs and Stories.
For more information and registration details, please visit the website at:
http://www.uucamp.org/camps-retreats/adult-camps/music-in-the-mountains/
See you at the camp!
Stagecoach Inn
There is a Songcircle held on the 4th Saturday of Each Month. Check the calendar for further details.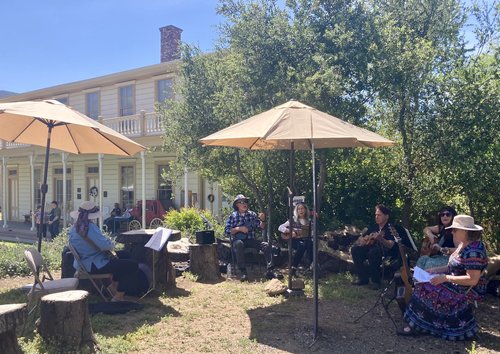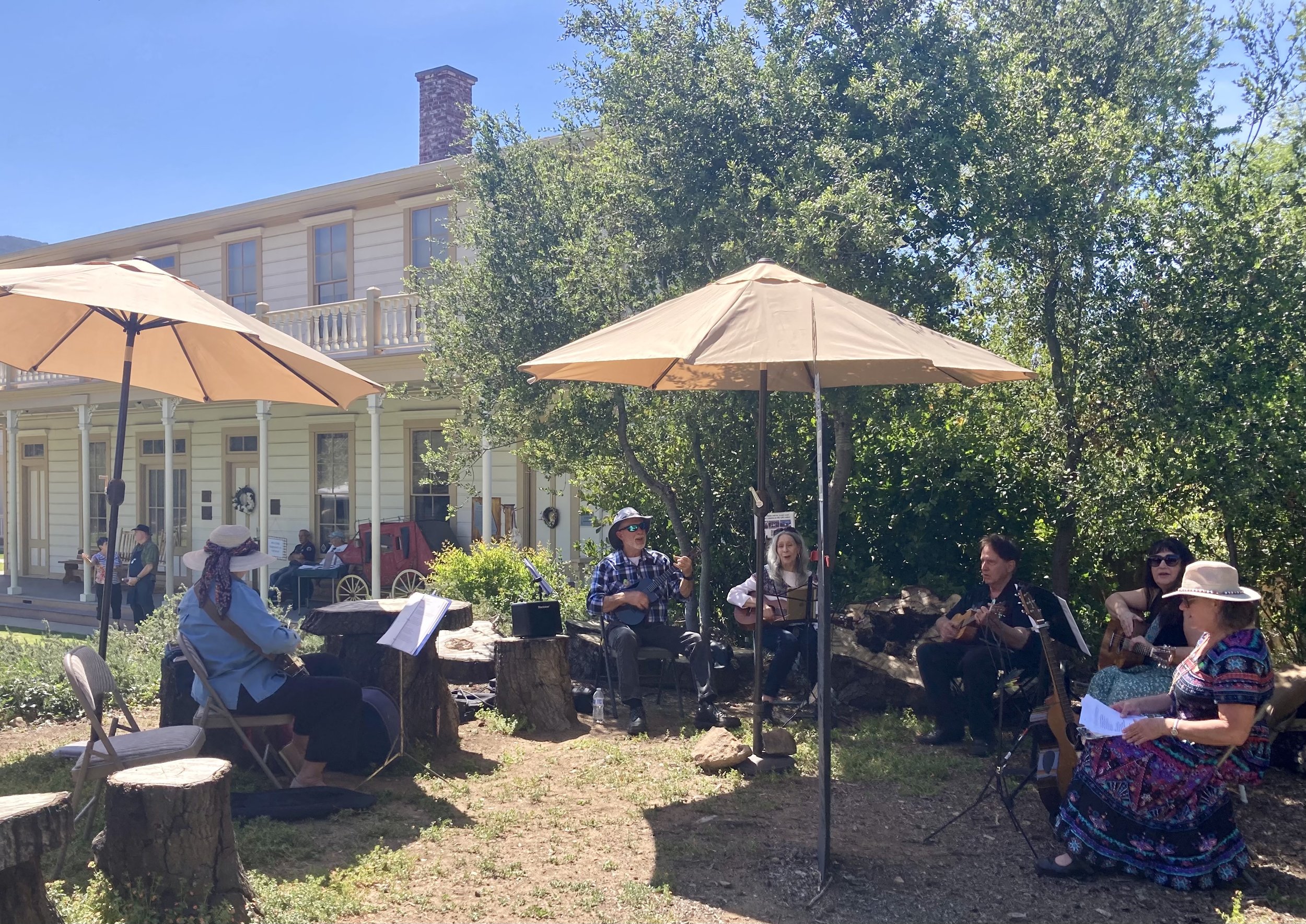 Kenney Grove 2022
Our campouts at Kenney Grove in Fillmore have been well attended this year. In addition to the overnight Songmaker campers, many members "day trip" just for the day on Saturdays.
It isn't always about playing music and staying in the campground. Many members went to Santa Paula for an evening car show and to hear Greg Lannar's band perform. A few members bring their bikes along and there is a great store with antiques and old-time items to visit in Fillmore.
Janice Gelencser biked to the nearby tennis courts to hit balls.
A sampling of items at the local downtown Fillmore antique store
Greg Lannar's band performed downtown at the car show in Santa Paula.
Topanga Banjo and Fiddle Festival 2022
Photos by Chuck Behrman
Article by Louise Dobbs
The 2022 60th Topanga Festival by Louise Dobbs
Songmakers 2022 Roundup
This was held via zoom on February 26, 2022.
Some of our board members performed Sing With Me, by John Zipperer at the event. Songmakers appearing in the video are Doug Kerr, Linda Szitkar, Janice Galencser, Louise Dobbs, Sally Charette, Dana Charette, Steve Berman and Sandy Lessner. Thanks go to Doug Kerr for producing this video.