Our members have been busy! Do you have an article or picture(s ) from a song circle, hoot or musical event with Songmakers that you would like to share? Do you have a future gig that you can share information about? If so, email to: Mary Zangerle at:
webmaster@songmakers.org
John Zipperer
After a slow start from the past 2 years of stuff, John Zippered is gettin' back to playing for you! Along with some of his awesome friends, you can see/hear them at these wonderful places: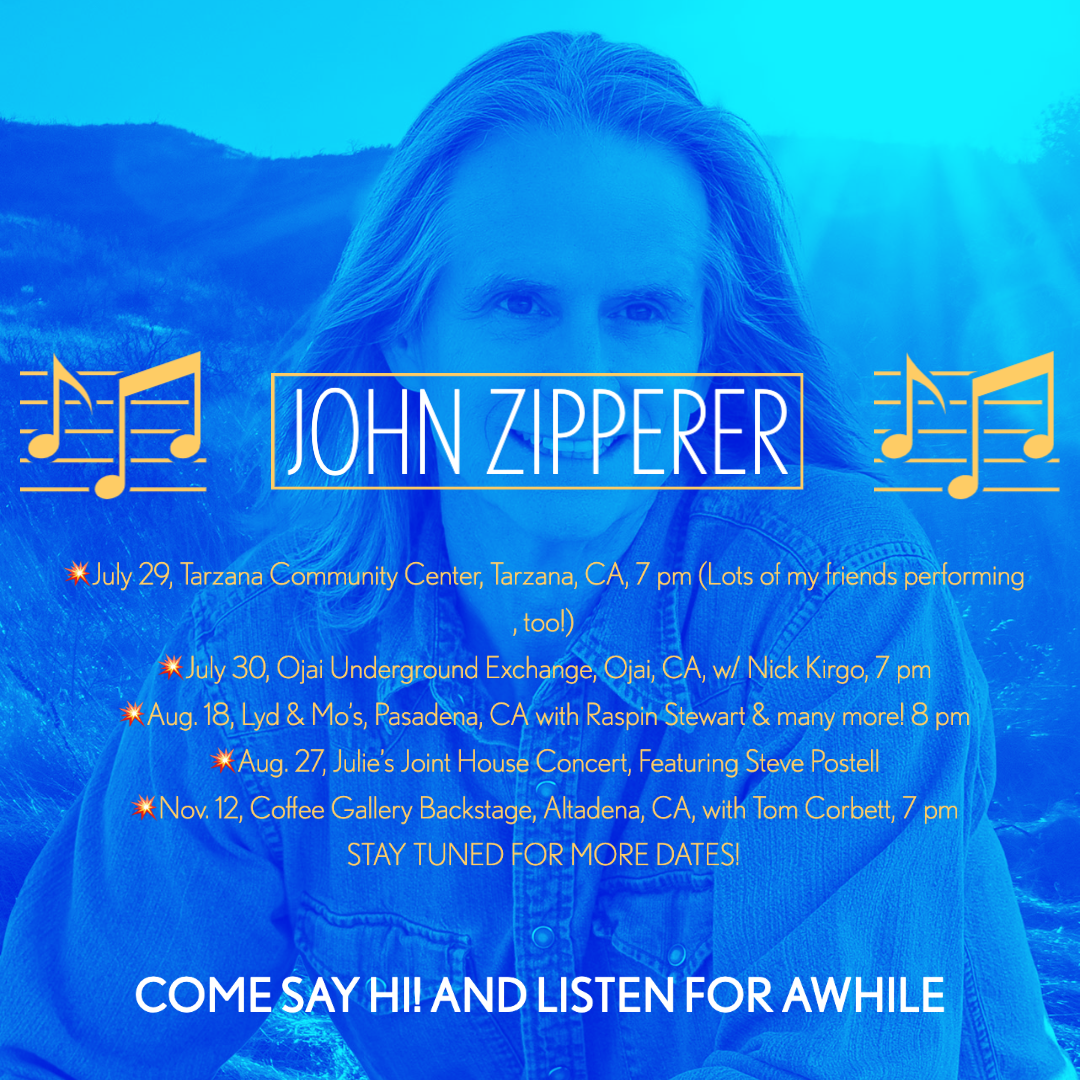 💥July 29, Tarzana Community Center, Tarzana, CA, 7 pm (Lots of my friends performing , too!)
💥July 30, Ojai Underground Exchange, Ojai, CA, w/ Nick Kirgo, 7 pm, Live tickets here & livestreaming broadcast here.
💥Aug. 18, Lyd & Mo's, Pasadena, CA with Raspin Stewart & many more! 8 pm
💥Aug. 27, Julie's Joint House Concert, Featuring Steve Postell, Doors open at 5 pm – RSVP a must!
💥Nov. 12, Coffee Gallery Backstage, Altadena, CA, with Tom Corbett, 7 pm ~ RSVP by calling Bob Stain @ (626) 798-6236
Jim Friery
Tues & Fri – Tagueria Jalisco, Moorpark 5 – 9 pm
Thurs – Boatyard Pub Ventura 4 – 6 pm and Bluegrass jam band from 6:30 – 9 pm
Sympatico Music (www.sympaticomusic.com)
Ventura Street Stage in Ventura at Main and California from 5-8pm. Pat Cronin and Bob Beuhling of Sympatico Music will perform covers and originals. Several restaurants will provide outdoor dining and drinks, while you enjoy live music and stroll the streets. There will be a table set up with information & CDs on these dates from 5-8 pm:
July 23, 2022
July 30, 2022
Aug 13, 2022
Aug 20, 2022
Sept 10, 2022
Sept 17, 2022
Sept 24, 2022
Bill Dempsey (www.billdempseymusic.net)
Aug 27, 2022 – Shipley Nature Center – Saturday 5-7 pm
IN PERSON – FREE Community Jam
17851 Goldenwest Street, Huntington Beach, Ca. 92647
Nov 5, 2022 Poway Train Festival. Info at: www.sdfolkheritage.org
Nov 19, 2022 – Opening for Lilies of the West in Anaheim. Info at: thelivingtradition.org
The Southern California Dulcimer Heritage page at: scdh.org has information on these performances for Bill:
Sept 11, 2022 – Beyond Beginner Ukulele Class in Person
Sept 17, 2022 Mountain Dulcimer Jam in Person 12 – 3 pm
Stagecoach Inn
There is a Songcircle held on the 4th Saturday of Each Month. Check the calendar for further details.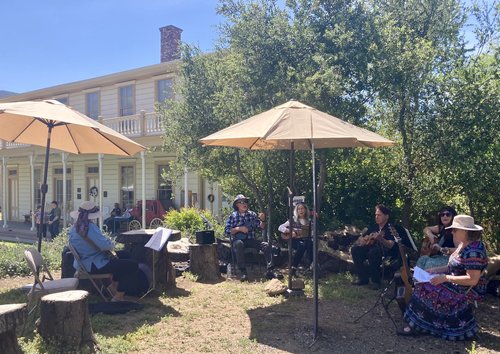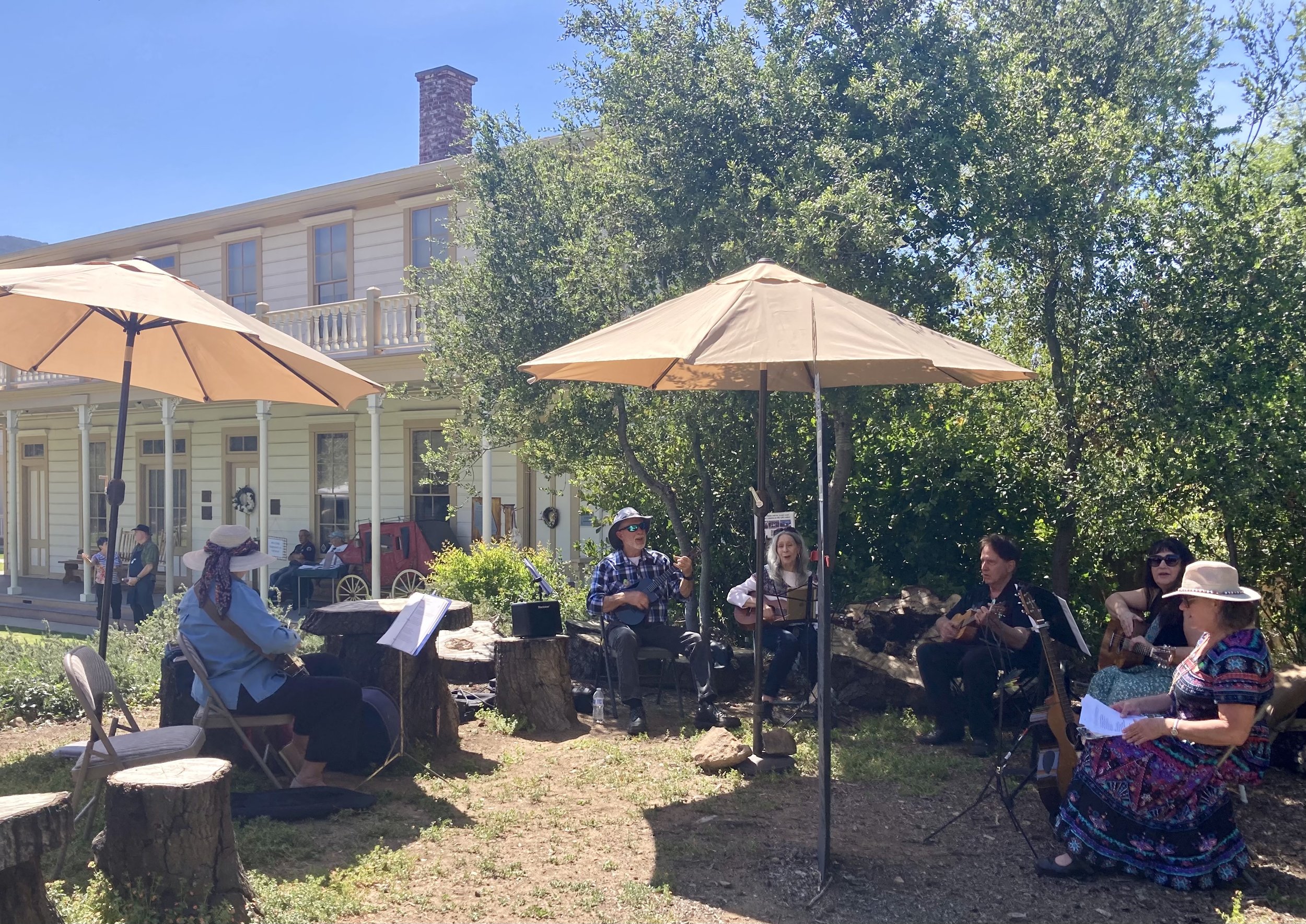 Kenney Grove 2022
Our campouts at Kenney Grove in Fillmore have been well attended this year. In addition to the overnight Songmaker campers, many members "day trip" just for the day on Saturdays.
It isn't always about playing music and staying in the campground. Many members went to Santa Paula for an evening car show and to hear Greg Lannar's band perform. A few members bring their bikes along and there is a great store with antiques and old-time items to visit in Fillmore.
Janice Gelencser biked to the nearby tennis courts to hit balls.
A sampling of items at the local downtown Fillmore antique store
Greg Lannar's band performed downtown at the car show in Santa Paula.